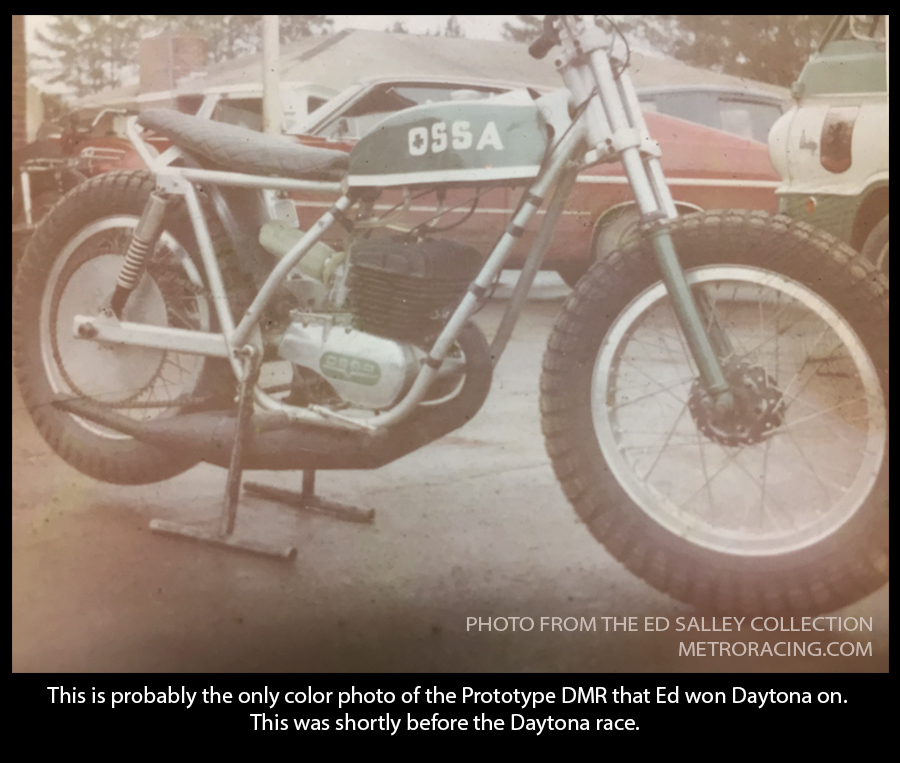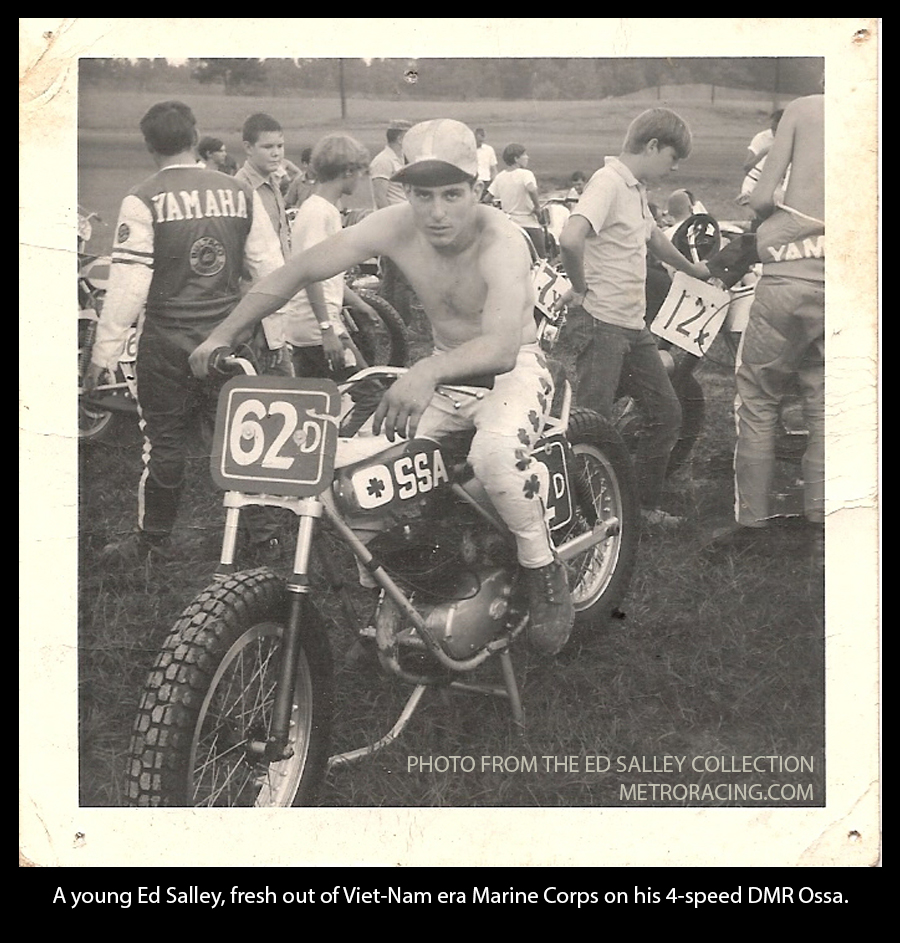 In some way or another, every restoration project has a story to tell. Usually, the main reason why it's being restored is so that special and unique story can live on for many years to come.
Hold on to your helmets, folks, this one is a good one!
Most of you may know that vintage flat track racing is my passion; collecting, restoring, watching, racing, etc. Whatever the level, I'm all in. The history of the sport means a lot to me, as I have been around it as long as I can remember. So anytime I come across something, the desire to get my hands on it is always there. Whether it's a program from a race; gear, bike, whatever. And if I can't have it, I want it to be saved and shared with everyone.
On one of my many trips to Daytona for the vintage races, circa 2000, I had just put my Boss framed, H-D MX-250 together with a new motor, courtesy of Woody Kyle. Unfortunately, several inches of snow in Pennsylvania left me with no place to run it in and shake it down. I asked Woody for advice on where to go and he replied, "Considering the first race is in Neeses, SC, my dear friend Ed Salley has a shop close by and he will be happy to help us however he can." I asked the usual questions, where's he located, and what would his compensation would be for his help? Woody gave me his address in Orangeburg, SC and assured me, that I would be well taken care of. Woody continued, "He's a racer that is there to help other racers. I guarantee, you will leave with a well-sorted bike and a new best friend."
As usual, Woody was spot on. Upon arrival at Road and Track motorcycles, a stout man with the walk of a long time racer greeted us with a big smile, a smooth southern drawl and a handshake that could break an axe handle. "Come on in and let's get us a motorcycle straightened out!" he said.
After we unloaded, he gave us the tour; there were pictures, old gear, pure racing history hanging everywhere in that building that, at one time or another, also housed a couple franchised marques, and built and maintained countless motorcycles over the years. One thing caught my eye in particular: a pair of white and green leathers with "Ossa" on the front and the Ossa "clover like" trademark up and down the sleeves and legs. Of course I had to ask, "What's up with them?" His smile got bigger and he said, "Pull up a chair and let me tell you something..."
"Them leathers were worn by the factory-sponsored Ossa racer when he won Daytona in 1971 on a brand new DMR. You know who that is?" he asked. Of course I did! He continued, "That racer, just happened to be ME!"
Glad I was sitting down, as I wanted to hear this story, firsthand. Ed then told me how Dick Mann had chosen him as one of the racers to pilot his new creation, the Ossa DMR. DMR stood for Dick Mann Replica. Dick, along with Ossa and John Taylor had put together an Ossa short tracker that was pretty hot right out of the box. Flat track was becoming very popular in the states, so the idea of a competitive, national-caliber replica needed to be available to racers of all levels. The initial plan was to produce 99 of these bikes, but not before some prototypes were built and given to some fast racers to help promote this campaign.
A deal was made and Ed was soon on his way to Schenectady, NY to pick up his DMR. While there, they had someone photograph Ed in his new Ossa leathers on the DMR at the track on site. Ed hammed it up and they got some good shots. One of his action shots was used on the brochure for the new DMR.
Ed took it home, and like any other racer, made some adjustments to make to his own. The most visible change was, he painted it green and white, with OSSA really big on the tank. He didn't care for the stock red metal flake paint job. Then he attached his # 62D to the bike. Daytona would be the first race for Ed and his new ride. It was a double-header, with literally hundreds of racers trying to get into each night's main event. On the first night, Ed was getting acquainted with the bike and did ok; his mid-pack finish was still good at a race like this.
On the second night, it had rained and the "Moon Dirt" surface of the short track was not great to say the least. However, Ed said, "It was the magic combination for the DMR and his Carlisle tires. The bike was on rails." The competition was nothing to take too lightly that night either. In the fight were Kenny Roberts, Gary Scott, Rex Beauchamp, Mike Kidd and European Speedway champ Barry Briggs on a speedway framed bike with a twin-cylinder Yamaha 250 two-stroke. Ed had his work cut out for him to say the least!
Night two was all Ed Salley and he led from start to finish for the win! This was a racer's dream to pull it all together and put it on top of the box. He recalls, "$2,000 pay out for 1971 was a big deal." Roughly $12,853 in 2020 dollars. Not bad for a few night's work.
Ed went on to a successful career racing; then ultimately owning a dealership and raising a family. Over the years, the DMR went through a bunch of changes to keep up with the times. The last one was a modern 450 Yamaha four-stroke motor that he shoehorned in it and had his buddy Garth Brow race it at some local tracks. We watched the video on an old TV in the shop, saw the bike with the 450 in it and looked at a lot of great action pics of Ed's career.
After that extensive bench racing session, it was time to get to work on my bike. We got the Harley straightened out and went on our way. The whole time we were there, Ed's stories echoed in my head. What a cool guy - and man did he have some great stories.
While in Daytona that year, I picked up Woody Kyle's old Kawasaki Big Horn to restore for him. I kept in touch with Ed and a couple of his employees. I sent Ed pix of the restoration as he also rode the twin brother to the Ridgeway Big Horn with Woody. Phone calls to Ed were the greatest. I'd be hunting for info on the Big Horns and we would talk forever.
The next Daytona rolled around and we stopped in to see Ed once again. This time there was no repairs needed, just some BBQ and bench racing. The old DMR was still sitting there with the 450 in it. I had to ask, "Why don't you let me restore that to it's Daytona-winning glory?"
He smiled and said, "Let me think about that one. She's still got some life left in her."
I figured the DMR would just keep making the rounds; it's Daytona days tucked deep in it's soul. After a few more years, Woody's bike was done and it was headed for the National Motorcycle Museum in Idaho to honor Woody and Jay Ridgeway as a featured bike in the Fallen Heroes section. It was a great honor to have it there. It was the first time Woody had seen the bike in that state for many years.
The next Daytona came and I was back at Ed's. He bought up that he was impressed that I did such a nice thing for his long-time friend and said, "I can only hope someone would do that for me someday." That led to Ed saying the remains of his two 4-speed DMRs would be entrusted to me to restore and keep him and his Daytona-winning ride around for everyone to enjoy for many years to come. To say the least, I was honored and overwhelmed to have been given such responsibility. It took Ed a few years to gather everything up and get it on a pile for me to pick up. When the time came, I had a good friend that happened to be close by. He was on a couple trips to Daytona and Ed's with me. He picked up the remains and brought them home to me. HIs initial response when he dropped them off was. "Are you sure you want this stuff? Looks pretty rough."
I said, "Oh yeah, I don't care what it looks like. It's a true piece of history that can't be denied! I can see through the countless welds, different brackets, broken and worn out parts. That' not a problem. I can and will bring it back."
Though the DMR resto was in line, it was to be a while until I got to it. I had a bunch of other things going on, however, regular calls and texts to Ed, would keep him up to date on what I was working on. Through that time, Ed's health wasn't the greatest, and was quickly deteriorating. Maybe should have said or done something differently, but in my mind a Vietnam-era Marine and Daytona-winning racer was made of stone and would live forever! And I knew Ed would be the happiest to see the bike restored to its former glory. Sadly, I was wrong, and Ed died on August 24th 2020… Due to all the Covid restrictions, there was only a small gathering for his passing.
These days, I'm running wide open to put the Daytona-winning Ossa back to it's original condition so once this mess clears up, it can be included in a wonderful celebration of a great man's life. Fingers crossed as this upcoming Daytona will be the 50th anniversary of Ed winning the short track. I'm hoping everything works out and Ed's spirit as well as the bike and all his friends and family can be there to celebrate the anniversary of that special night in 1971.
Oh yeah, and what a better day to announce this; Ed would have been 75-years-old today, 10-20-2020.
I told you this was a good one! Stay tuned for updates as they happen!
RIP Ed Salley and let's go racing in 2021!
Here is a link to the video of Ed's winning race at Daytona: https://www.youtube.com/watch?v=046Kn2Ag5Qs