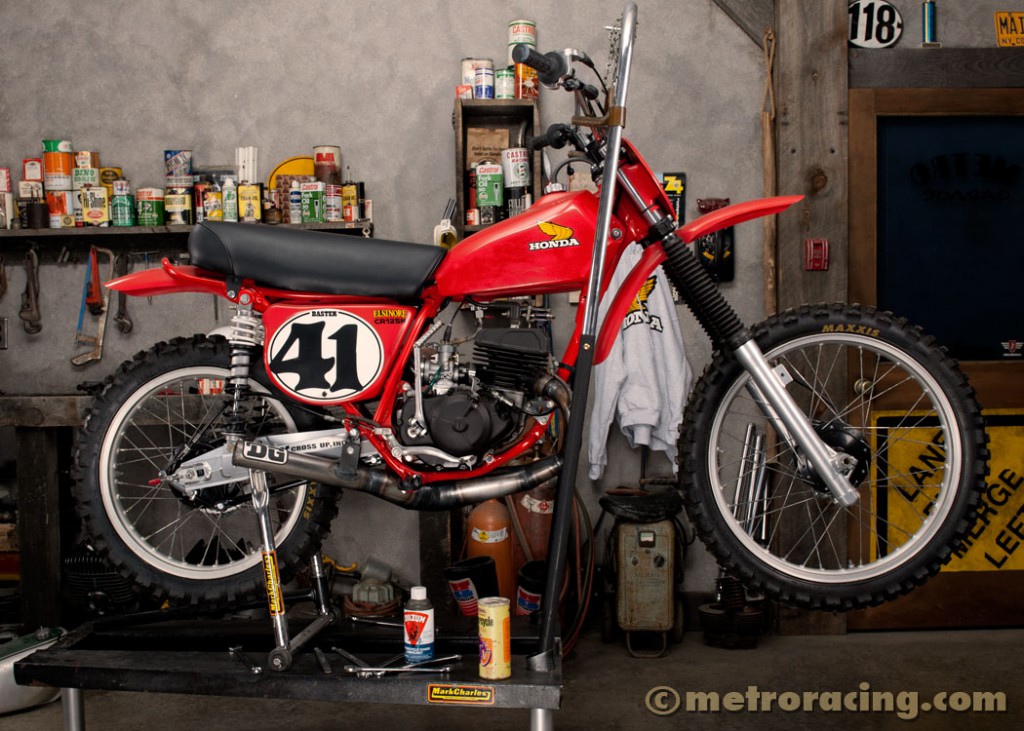 Like every other freckle-faced kid, I wanted to be like the guys I saw in my father's Dirt Bike magazines in the '70s. In particular, I wanted to be like Marty Smith. So when it was clear that I wasn't going to be at all like him (fast and successful), I went for the next best thing: build a replica of his works RC-125 Honda and race it many years later. This bike was purchased in 1991 from Vintage Iron's own Rick Doughty with just enough time to have it shipped from California to Connecticut, assemble it, test it and load it up for Daytona Bike Week. What struck me about the bike was that it was already all red, had cool old Renthal bars, a tall seat and a trick Cross-Up swingarm on it. I rode the wheels off it that year in Ocala and won both 125 Expert motos – and runner-up Mr. Doughty wasn't thrilled.
For the next two seasons, I raced this bike in almost every AHRMA National event from coast to coast, oftentimes winning one or both motos. To say that this particular bike and I "gelled" would be a gross understatement. In 1992 and 1993 we were #1 plate holders in the 125 Expert Class for the year and we rarely had any issues with the bike at all. A few top ends from time to time, tires and fork seals (lots of them…!). Oh, and wheels. We seemed to flatten a lot of wheels!
It's not often that you mesh so well with a bike as there are so many factors: bike size, your size, ability, past experience, etc. But for my bony 155 lb. frame, this bike is about perfect. And as for my riding style, well, the CR-125 fits that, too. I like to keep it revving to the moon and the CR is always happy to oblige…
For about a decade, I would take the bike out a few times a season and race it, just because. But one day I realized that there was more to motocross than four inches of rear travel and decided to try something about 15 years newer. So when my father and I agreed that the little Elsinore had earned a spot in the paperweight collection, we went to work bring her back to her non-original beauty (with an upgrade or two).
I found a 1976 CR-125 that was in the process of being "restored" to look like a Marty Smith replica and it had a lot of new stuff on it so I made a deal for it, robbed all the stuff I wanted and sold off the rest. I ended up with some new fenders, a new tank, straight wheels, new ties, seat, etc. I then found a set of 35mm Marzocchi forks (ala Rick Doughty's personal bike, in fact I bought the forks from him!) and we went to work. The frame was powder-coated, new bars, fresh motor, swingarm powder-coated, new DG pipe, and so on. In the end, what we carried up the stairs from my dad's basement shop, through my mother's kitchen and out the front door was astonishing to say the least. It was just like Marty's, but it was mine, and we had made our own history with it…