I have taken on a lot of projects over the years. Some good, some not so good. There was always one consistent with them, I had plenty of time to get them done.
The one exception to the rule was the Honda RS750 for 3-time Grand National Champ and Super Bike Champ, Bubba Shobert, to ride as the special guest at our event. Our event being the AMA vintage National Double Header at Square Deal Raceway in Harpursville, NY.
For the years past, we had the event with great success. We included the prestigious Larry Weiss Memorial, that was always a "Dog Fight" to take home the coveted traveling trophy, as well as some of the greats in the sport as special guests. Thoughts between Peg and I were always, What to do to make it better? Seeing as how we had Bubba coming as the Special Guest, what possibly could we do. The idea pops into my head, "We should have an RS750 for Bubba to do some parade laps on, that would be great!" Great yes, but, um, where am I going to get one of these? They aren't just laying around.
I started the good ol' fashioned phone tree. One of the calls was to long-time friend, Georgie Price. "Hey Georgie, know where I can get and RS?" (The other 10 calls were answered with laughter.) Georgie said, "Yeah, Mike Scott has one, call him up." The next call was to Mike, yes he had one, yes he was OK with me borrowing it, but there were some strings attached. OK, I'm game, this will make our event better, what's the deal? Mike replied, "It's in pieces, you put it together, you are more than welcome to it." I didn't hesitate, I said, "Deal! When can I get it?" We made arrangements to meet at the upcoming Oley, PA Antique Motorcycle Meet.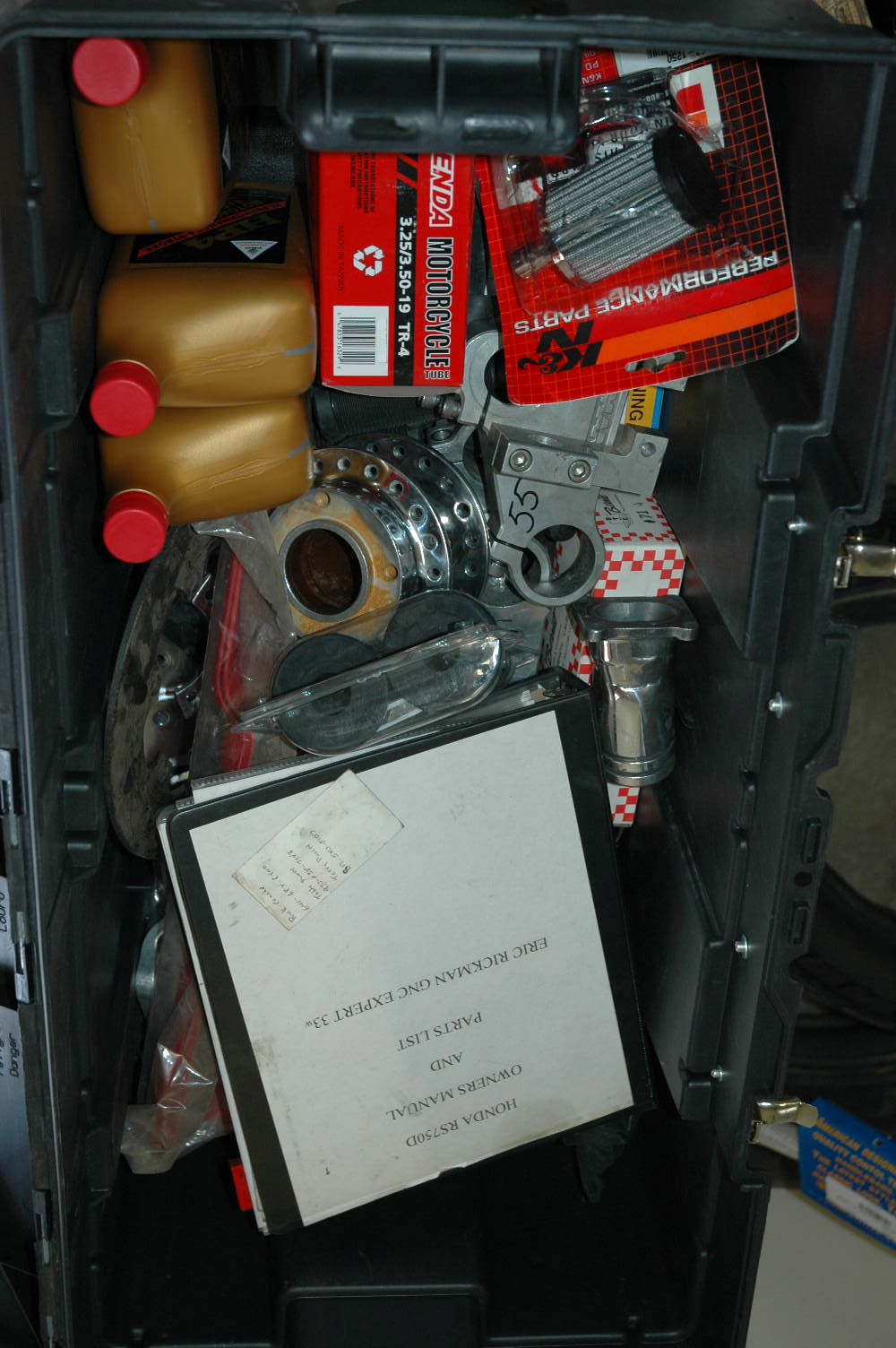 Here's some of the parts to start with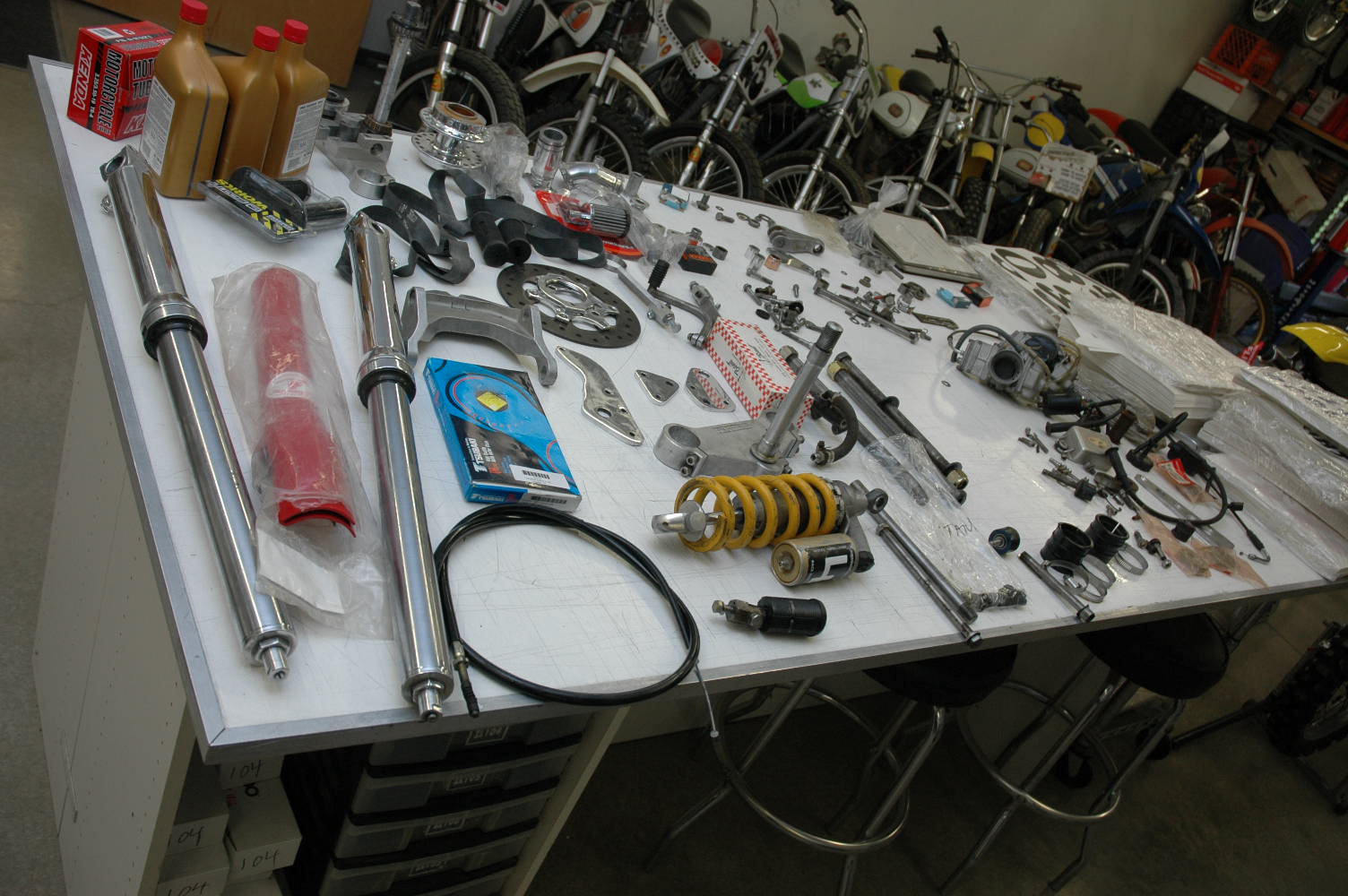 Honda parts covered a couple of benches trying to assess what went where and is there anything missing?
I met up with Mike and we went back to his truck, all the while, I'm envisioning a rolling chassis, motor included that needed a few things. Not so. Yes the motor had been gone through by Johnny Goad and it was complete, but that was it, everything was apart, from and body work were painted, that was a plus, but WOW! This was going to be a challenge. Keep in mind, this is the end of April and our event is happening on the last weekend of June.
I got the 'jenga puzzle' back to the shop and started to assess the project. I'm usually not one to be shaken, but this one had me scared. There's no manual for one of these, none of the parts are labeled, no photos of the bike when it was a whole piece, nothing - strictly flying by the seat of my pants, WFO, mad assemble as quickly as possible. Oh yeah and continue to promote the event to get people there to see Bubba ride it and keep up with the daily grind that is Metro Racing. Not going to lie, I was kind of 'skeeeerrred'!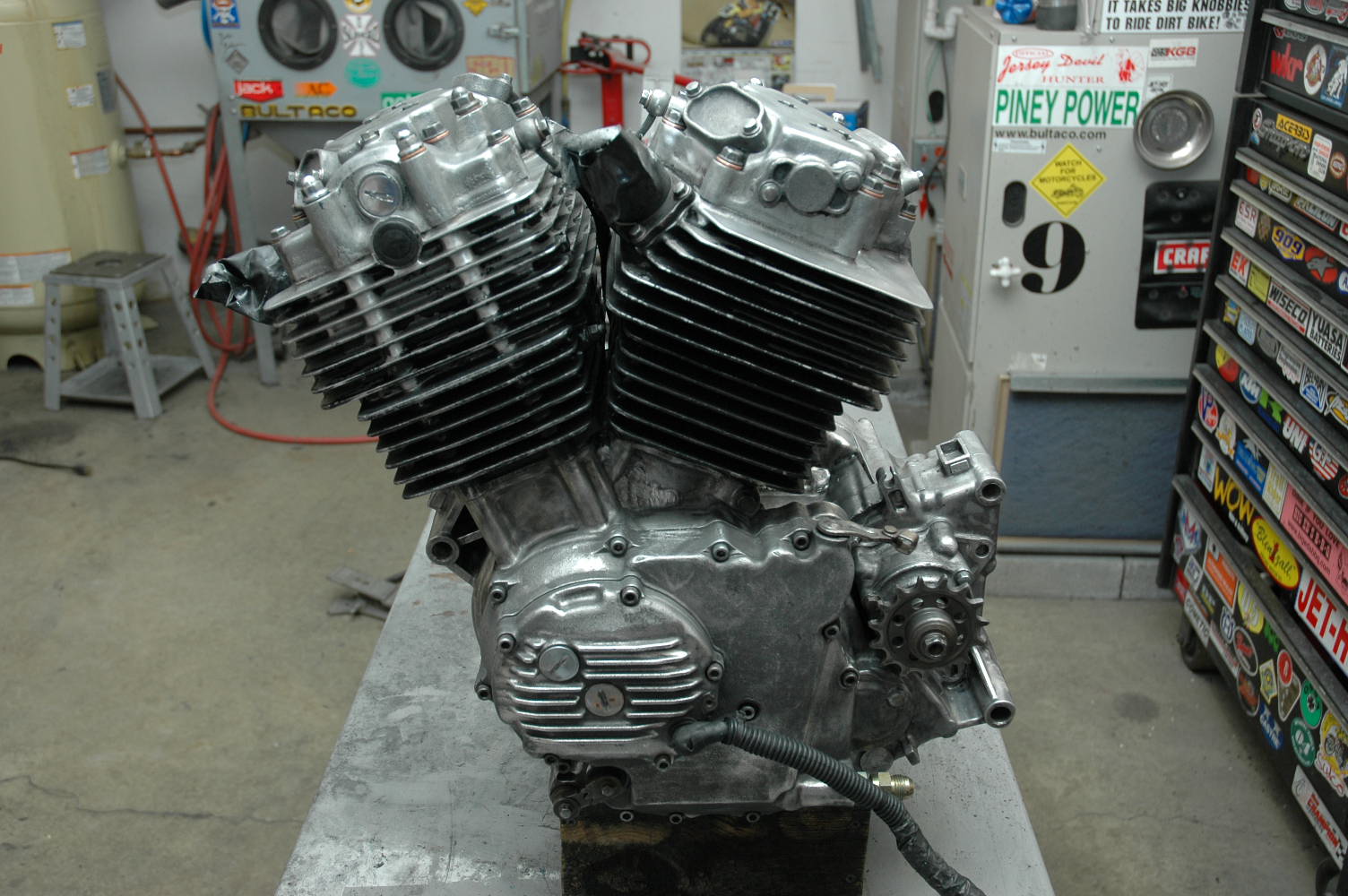 Yes, the Great Johnny Goad went through the motor, but the motor had been blasted by roost, disassembled, re-assembled and repainted about two dozen times. It wasn't a pretty sight. I couldn't leave it like that and usually I would take it apart and detail everything as proper as could be. Not in this case, I was not taking that motor apart! No time to dive into that project. I managed to carefully strip it as it was, clean and paint it up and make it presentable.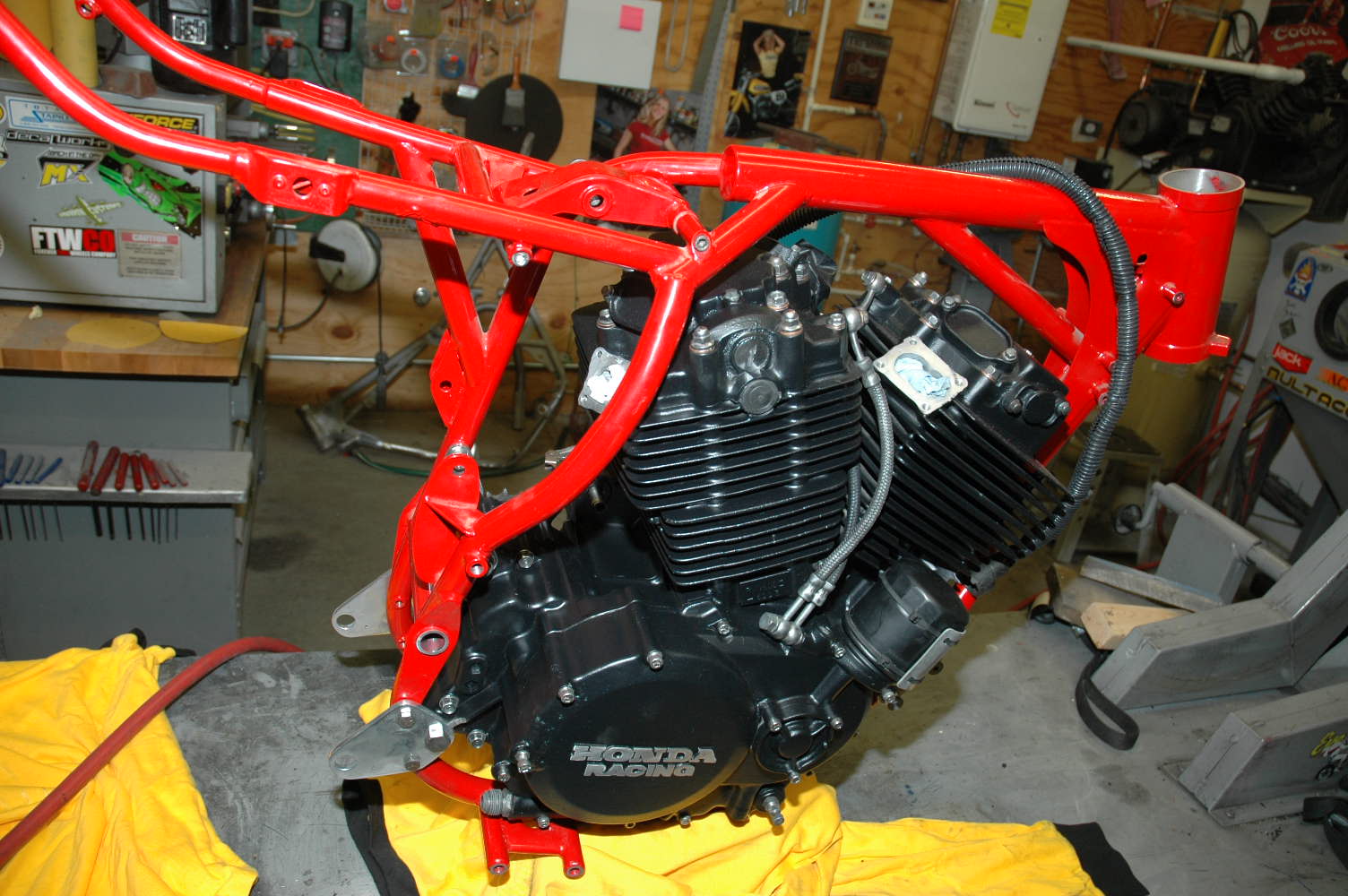 Putting the motor in the frame are nerve racking to say the least. I securely propped the motor up on its side and gently laid the frame on top of it. To say its a tight fit is the understatement of the century. The motor mounts all look similar, the bolt spacing where they attach to the frame is the same, but they all are just a bit different. Put one in the wrong place and the next ones don't come close. Oh yeah, and they can go on upside down too. Once the motor and the rear suspension was on, it was all downhill after that.
One of my favorite phrases is, 'just keep hitting it, if it fits, it fits'. I said that a lot. Almost everything on this bike was foreign to me. Yeah, I have seen them at the races and there was a few pictures on the internet, but there's really not a lot of info out there on them. The unique rear suspension was enough to put a mere mortal into a tail spin. It took a while to figure out where it all went and make sure it worked. Not only was stuff confusing, it is all very lightweight and compact. It only fits together one way, with hardly any wiggle room at all.
Through dumb luck and persistence, I got it all back together. Throw in a day trip back to Mike's shop to look for some of the missing parts and it was a complete motorcycle, with a week to spare. One part of the deal was to take it back to Mike for it's initial start up. I hauled it back, strapped it down to the dyno and it jumped right back to life! Quite exciting and a huge weight off of my shoulders. Mike made some adjustments and we deemed it safe and sound for the Shobert kid to take it out for a ride.
The event went off without a hitch. Bubba was awesome to have as a Special Guest. It had probably been over 20 years since he threw a leg over an RS750 and who knows if he will ever ride one again, but the fans at Square Deal got to witness history in the making! Afterwards was a blur, I don't thin I did anything for a week just to catch up from the marathon session.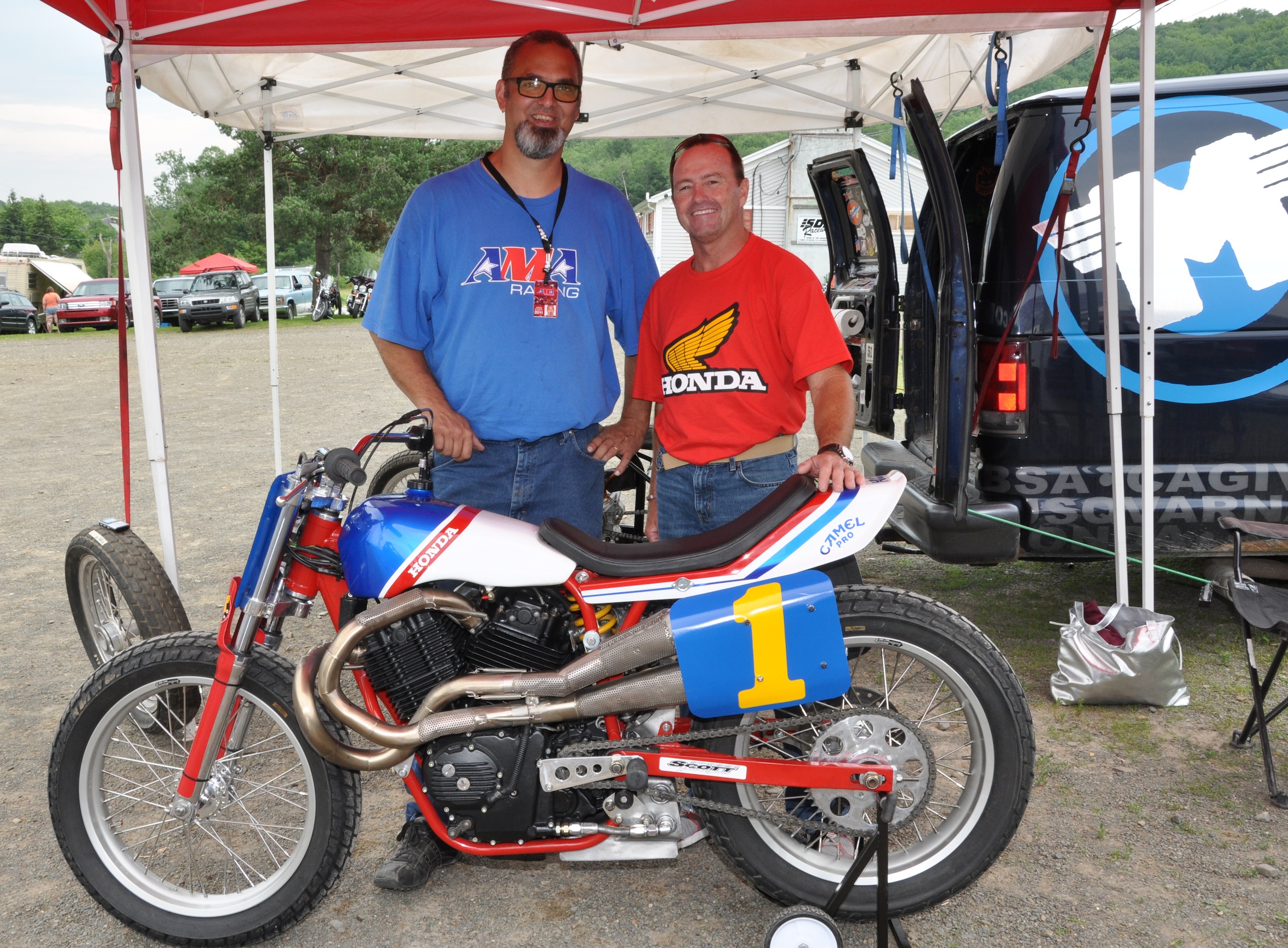 The finished project, with 'The Champ' and I. That whole weekend was well worth the time and effort to make it happen.