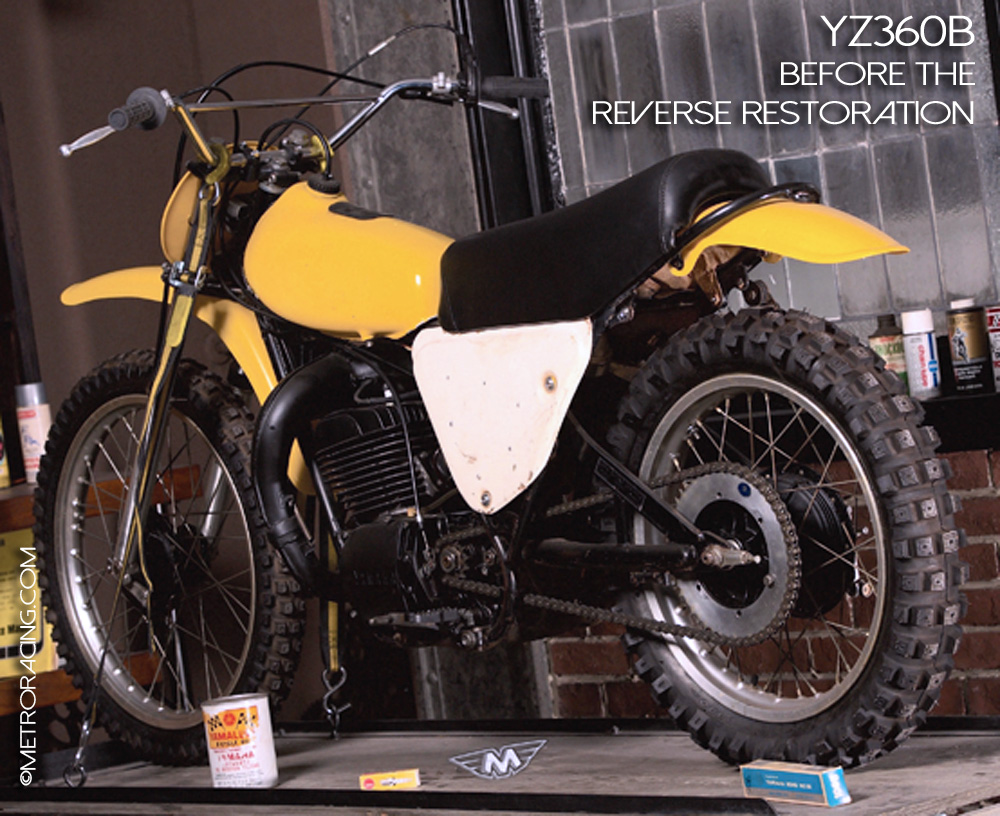 RESTORE OR UNRESTORED, THAT IS THE QUESTION
I came across a very desirable bike, a 1975 YZ360B, the first production mono-shocker open bike. I had seen the bike years ago and it was an absolute 'Time Capsule'. I mentioned to the owner about the worth of an unrestored bike and if any bike was to be left alone, it was that one.
Many years had passed and I got the call, "Hey, you still interested in the old YZ?" Well, yeah. No questions asked and I was on my way with the vision of that 'Time Capsule' dancing in my head.
It was a disappointment when I got there to see the bike. An attempt had been made to clean the bike up by painting the cases, new levers and more and totally ruined the perfect unrestored bike. I still took it, especially as it was desirable and the price was right.
The two hour ride home was a whirlwind of what to do - total restoration with plating, painting, NOS parts, finish it and flip it OR was it possible to put it back to the way I found it all those years ago and the battle scarred beauty it once was.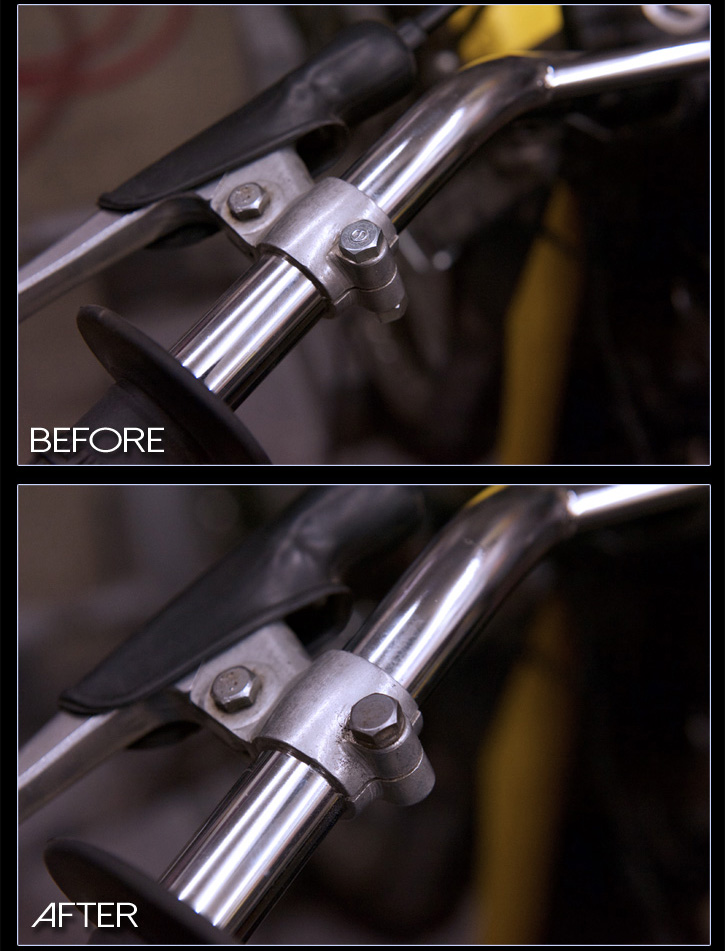 Photo showing the Honda bolts before and then replaced with correct used bolts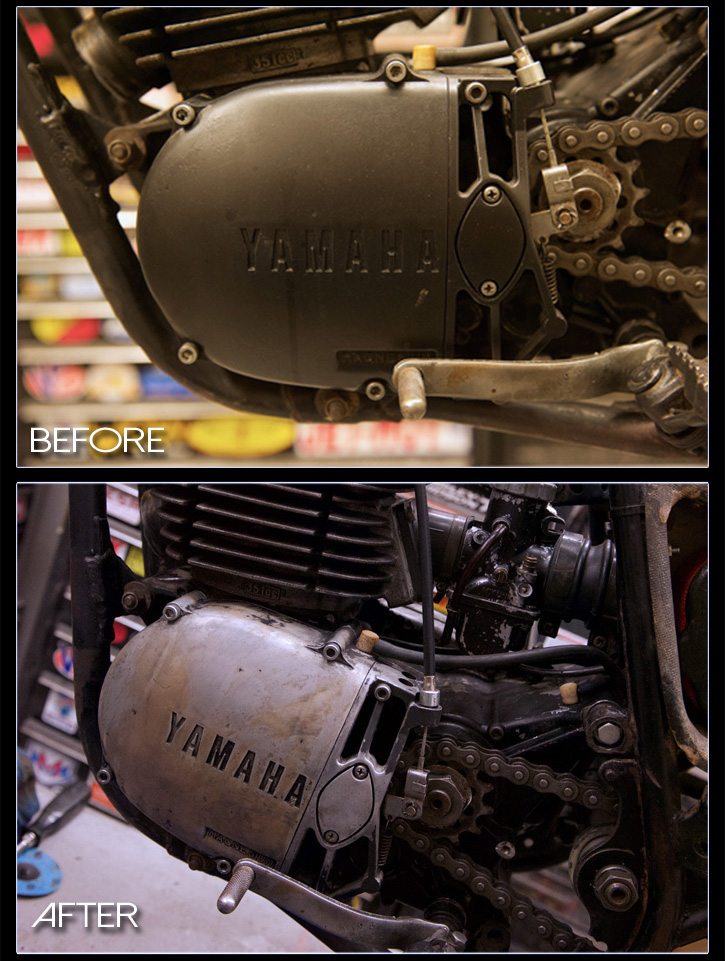 Close up of the left side cases: before with spray paint on them and after showing that great worn history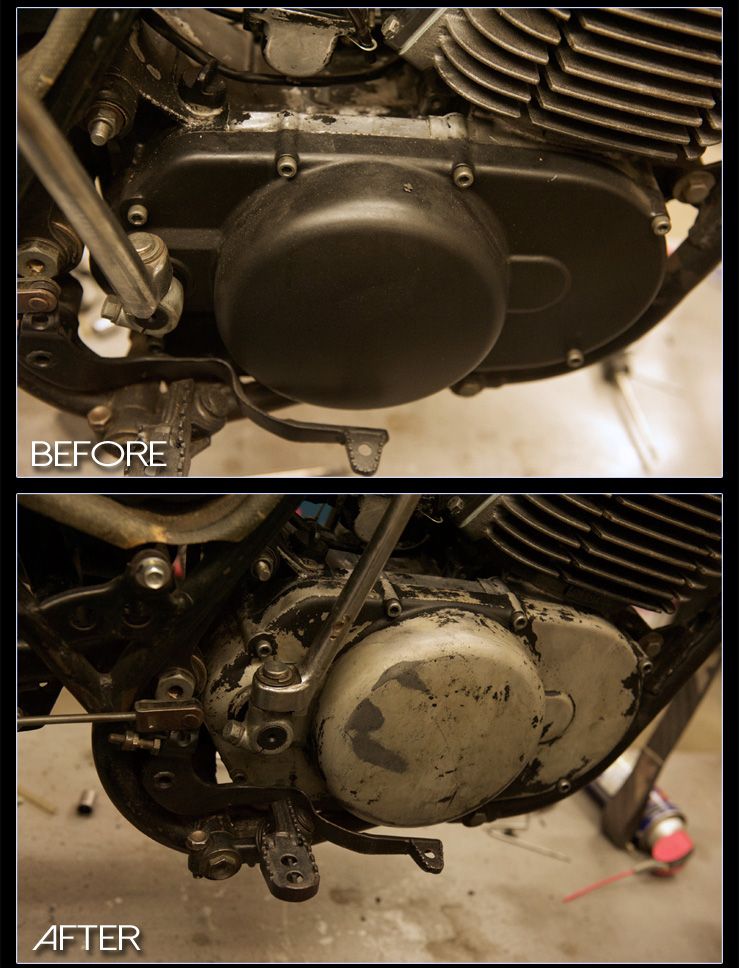 Close up of the right side cases: before with spray paint on them and after showing that great worn history.
The spray paint was able to be quickly wiped off of the cases with some lacquer thinner. When done quickly and carefully it does not harm the factory finish. Once done it unearthed a lot of the worn surfaces that were there. There were a bunch of replacement parts that had been put on the bike such as tires, rim locks, handlebars, grips, levers, cables and sprockets. All items someone would do to freshen up a bike. But for my newly coined 'Reverse Restoration' I was seeking out parts to replace those new parts. I sought out parts that were used or nice reproduction parts that would need some aging.
Through asking on social media and searching on eBay, I was able to find good used but original hardware, handlebars, fenders, and tires. For other things like the tank strap, tank decals and cables it was nice reproduction parts but with a few tricks I use to fit the wear and tear. I didn't want them looking like polished jewels on a pile of dirt.
In the end, I was happy to return this YZ to a very nice, original, as ridden, unrestored looking bike. The saying comes up often, "They are only original once and once they are restored you can't go back." Or in this case, can you?